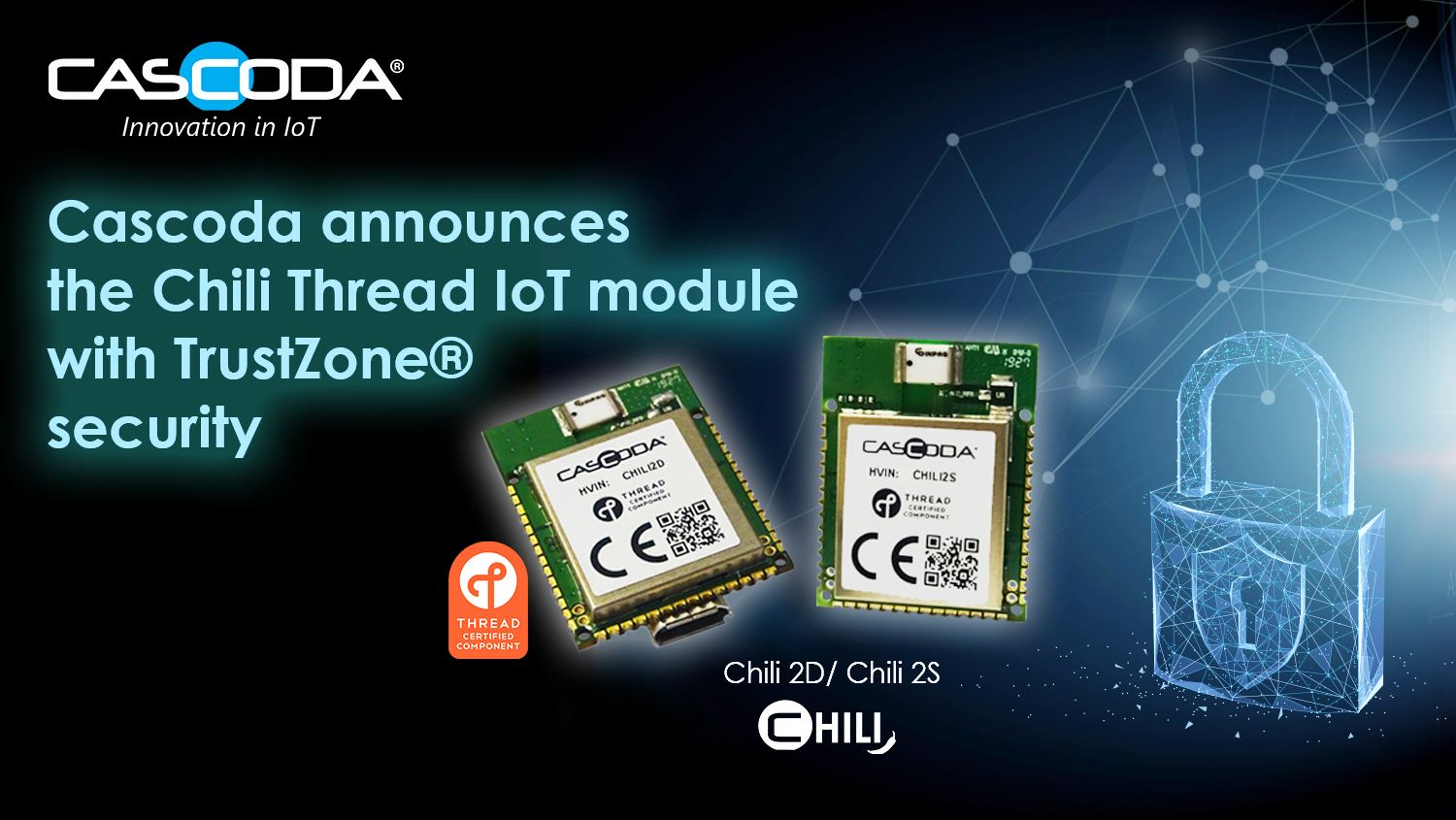 IoT modules with best-in-class range, power efficiency, security, reliability and scalability performance
Southampton Science Park, 9/3/2019 – Cascoda, a leading manufacturer of Internet of Things (IoT) semiconductors, today announces two fully-featured Thread-based wireless modules for IEEE 802.15.4 communication in the 2.4GHz band.  The Chili2D & 2S feature the Thread-certified Cascoda CA-8211 transceiver modem with a powerful ARM Cortex®-M23 TrustZone® microcontroller. The Chili2 modules represent the next generation of IoT connectivity platform, designed to make Internet of Things (IoT) more secure, efficient and reliable.
Advantages:
Long range: Best in class 2.4GHz receive sensitivity allowing whole-house coverage in any market on the planet, with no need for a power amplifier.
Low power: Ultra low power & low latency
Security: Highly secure ARM TrustZone architecture and Thread network layer
Reliability: Intelligent self-healing mesh network
Scalability: Scalable mesh network capable of massive IoT deployment
Secure by Design:
The most advanced security features available, allowing developers to design robust products that comply with upcoming security legislation:
Secure boot:
Cryptographic checks are added to each stage of the secure boot process, to assure the integrity of software images executed, thus preventing unauthorized software from running.
True Random Number Generator (TRNG):
The TRNG enables the generation of a truly random bit stream, required for device cryptography.
Cryptographic accelerator:
Protection for communication protocol keys, providing AES, SHA and Elliptic Curve cryptography.
Memory, operation and tamper protection:
Protection for the device in operation with hardware separation between system and application code.
Module variants
The Chili2S is a single-sided postage-stamp module, intended as a production platform. This is designed to be soldered to an application main-board, which will supply power and interfacing. The Chili2D is a double-sided stand-alone module, intended as a development platform. It features a voltage regulator, a Li/Li-Po battery charger, a micro-USB socket and a 10-pin 0.05″ ARM-JTAG connector. Both Chili2d and Chili2S are aimed at developing flexible connectivity solutions to adopt different IoT devices for developers.
"We are very excited to announce the Chili2 module, which allows our customers a low-cost entry to the IoT market, by providing a pre-certified IP-based module, with unparalleled range, power, security, reliability and scalability performance, to any market  on the planet" said Bruno Johnson, CEO of Cascoda.
Availability:
The Chili2 modules will be available to the global market at the end of September 2019.
For more information about Chili2 module, visit:
https://www.cascoda.com/chili2/
For more information on where to buy this product, visit:
https://www.cascoda.com/wheretobuy/