The CA-821X SMARTRange™ family is a fully-featured transceiver modem solution for IEEE 802.15.4 communications in the 2.4GHz band. With industry leading power consumption and sensitivity performance it delivers unparalleled range without external amplifier components, thus providing whole-house connectivity on any market on the planet.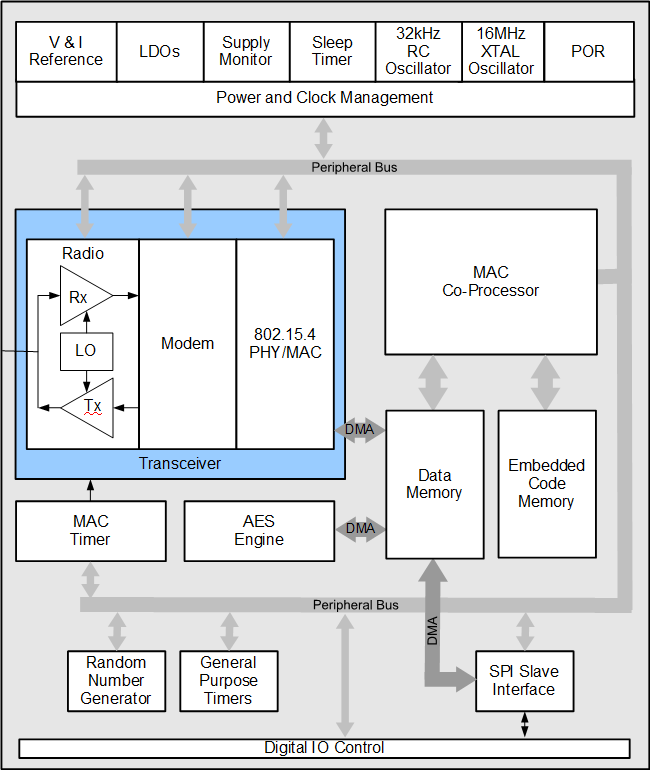 PHY and MAC support functions and system configuration are programmed via an intelligent co-processor, thereby minimizing the control overhead for the system host. Unlike PHY-only devices, the CA-821X API interface is insensitive to the timing of commands on the SPI bus. The CA-821X family can therefore be controlled directly from Linux, or your existing MCU, allowing you to concentrate on your application, without the need to worry about PHY standards compliance.
The combination of the industry's leading power consumption and sensitivity performance delivers a 2.4GHz radio with power consumption and range comparable to that of radios employed in the sub-gigahertz bands.
This device is therefore an ideal enabler for wireless systems providers and module manufacturers which seek to move existing sub-gigahertz wireless products to the world-wide market afforded by the 2.4Ghz radio band.